So, Megyn Kelly's answer to charges that she is 1) an idiot 2) a racist and 3 (most likely) a craven, unsophisticated, opportunist is that she was making a funny when she insisted that Santa and Jesus where super, duper, white.
It's the classic "I'll use humor as a get out of jail free" card, because, supposedly, humor, like porn is subjective.
I was TRYING to make you laugh and if you didn't... well... you just don't get the joke.
Only, of course, that's a pile of feces.
"I was kidding" is one small step away from "some of my best friends are black" when it comes to trying to escape the moment you've exposed the very worst parts of yourself.
For instance...
...one of the shortest jokes I can think of is...

A guy walks into a bar... and says, "ouch".
It's funny -- or at least was the first 6,000 times it was told -- because it takes one of the basic tropes of comedy... "a guy walks into a bar"... and turns it on its head.
Not BAR as in ale house, but BAR as in steel rod that you bump your head on.
It's a joke... that can be explained.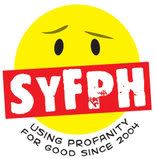 Even the title of this diary... another attempt at humor... might be funny to you because it is utterly absurdest, supremely flavorful, with just the slightest hint of the profane.
I'm not suggesting that we will all -- or even most of us -- find the same things funny, but ACTUAL jokes, can be explained, dissected, defined and categorized.
(Now of course, there is the possibility that she THOUGHT she was making a joke, but is just woefully BAD at humor... in the same way that lots of people THINK a gun is unloaded just before they peer down the barrel and pull the trigger.)
Which is why, it makes me MOTHER HUGGING NUTS when those who have exposed their bigotry and insensitivity are allowed to cower behind the shield of being the comedian, instead of being asked, very simply:
What is the norm you were subverting? What's the lens you were applying? If its a joke... what's the basic structure of the funny?
Shorter WHAT'S THE JOKE?
Because, of course, the likely reality is that the only joke in the case of Megyn Kelly and the suddenly lilly White Jesus of Nazareth... is Megyn Kelly.
**
Random plug... Me, On The Twitter